WITH ONE CLICK LLC was established to provide efficient, expert business, travel and events assistance to businesses and individuals -- virtually. Our business is client-oriented, and we maintain strict confidentiality. 
We pride ourselves on providing customers with high-quality products and personal service - graphic design, contact and email management, proofreading, and more. Providing good virtual service means taking the time to listen. We will work with you every step of the way, so, don't hesitate ... get the  assistance you need - with one click!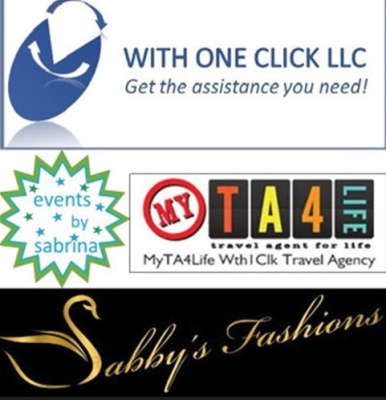 Why use a travel agent?
  - Save Money
  - Personal Service
  - Professional Knowledge
  - Save Time
  - Extra Mile Service
Events by Sabrina
Sabby's Fashions
Let us work with you on the planning and successful execution of your event - from start to finish. Past successful events have included retreats, corporate functions, pageants, and fashion shows.
Sabby's Fashions is a supplier of beautiful eclectic, one-of-a-kind international fashions. We also provide stylist and photographer assistance on photo shoots.
100% Satisfaction Guarantee